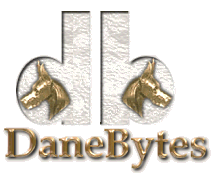 Rules of Membership
Membership Application
Before you go any further, please be aware that membership is by referral of an existing member only.

Limitation of Liability
By continuing to receive mail from DaneBytes you agree to hold the list owner Ruby Ricciardi and the owner of the system at which this list resides, harmless for opinions, advice and information posted on this mailing list. The opinions, advice, and information contained within is not necessarily a reflection of the list administrators or Owners. Your first post to or from the list acknowledges acceptance of and agreement to abide by all of the list rules.
List / Member Info
A sense of "community", "belonging" and ''family'' exists among subscribers. They are a very diverse group of people from around the world, and it is a self-contained society with its own rules and accepted forms of communication. Many have met in person or known each other for years. Many of our members have been involved in Danes for decades, and as such can and do offer their experience to list members. Our memberships interests are multi-faceted and varied. It is a source for discussion, information and exchange on all topics relating to Great Danes. DaneBytes members range from pet owners to show people to breeders and everything in between. All age groups too.
The list owner, allows all subjects to be discussed, and expects all members to be open and accepting of all subjects.
The behavior of this list is monitored:
The content of posts are not monitored, reviewed or read by anyone before it gets to the list, make sure YOU read it before you hit that send button. The list owner may, at their discretion, remove or restrict postings of any List Member for violation of this mailing list's rules.
Free Speech: This is a privately-administrated list, there is no "right to free speech". (To U.S. citizens: Constitutional right to free speech is limited to the U.S.Government ONLY. If you would like more information on this subject, please refer to the Cyber-Law web site, at: http:/www.counsel.com/cyberspace A very clear quote from this site, reads: Determine whether the *government* is imposing the speech restriction. U.S. Constitutional free speech guarantees apply only to the government (any federal, state, or local agency, including public universities and public employers). If the speech restriction is imposed by a *private* entity, the First Amendment does NOT apply.)
About your rights when submitting to DaneBytes:
By submitting written material or image files to the DaneBytes Mailing List, you consent to the redistribution of that material, now and in the future,to members of the DaneBytes Mailing List and to any person or group requesting information from the DaneBytes Mailing List. You may reserve your right to prevent redistribution of the material to those not on the list by expressly asserting that right in each and every document in which you reserve that right. In addition, you consent to the archiving of all material by the list maintainer for future reference, or redistribution by electronic mail to members of the DaneBytes Mailing List and others (except as expressly prohibited), and redistribution via the World Wide Web. In addition, you consent to the archiving of said material by other members of the DaneBytes Mailing List for their personal use and for redistribution as specified in the preceding sentence. Also, you consent to printed copies being generated for the personal use of members of the DaneBytes Mailing List. By submitting written material or image files for redistribution as part of a FAQ (Frequently Asked Questions) file, you additionally consent to the redistribution of that material in a printed form.
We reserve the right to change the rules as needed.

| | |
| --- | --- |
| 1 | Application Form below is * * * MANDATORY * * * |
| 2 | Flames: If a flame war erupts, publicly (or privately), the list owner, will be notified and the offender's subscription will be terminated without warning, notice or explanation. Blatant rudeness and insults will be considered a flame. |
| 3 | Quoting: Reply with only the necessary text quoted from original post. |
| 4 | Duplicate Posting of the same message to or from other lists will NOT be tolerated. This list and it's posts may not be mirrored (duplicated) on any other server/ mail list without Ruby's and the author's permission. |
| 5 | Private eMails: If you post an offensive PRIVATE email you received to the list, you will be unsubscribed without warning, notice or explanation. |
| 6 | Newbies: Special rule for people who have not spent much time on the internet or other mailing lists: Do not post to the list for 2 weeks. Use this time to read the posts and understand what is appropriate and what is not. |
| 7 | Virus: Do NOT post computer Virus Warnings to the list ! Period. Go to www.DaneBytes.com clic on Virus Guardian - submit it there. |
| 8 | NO Chain Letters. |
| 9 | NO Advertising without prior consent from listowner. |
| 10 | No Caps: Do not type posts in all capital letters. It offends the eyes. |
| 11 | NO politicized "position statements" or axe-grinding over some emotion-charged subject. |
| 12 | Subject Lines: Change them if the topic strays from the original post. |
| 13 | Bounced Mail: If I get too many ERROR messages from you…. I may drop you. You will have to re-subscribe, and promise to empty your mailbox better. |
| 14 | NO Attachments are allowed to be sent to the list |
INTRODUCTION FORM ( Mandatory ! )

| | |
| --- | --- |
| E-Mail Address: | |
| First Name - then Last Name: | |
| City: | |
| State: | |
| Country: (abbreviated) | |
| Telephone: * 800 555 1212 | |
| *Check to not be listed in db Directory | |
| ICQ # : (if none type na) | |

You will be subscribed when I receive this form COMPLETELY filled out.

In the case of any disagreement over what is appropriate,
the decision of the LIST OWNER is final.